Magie Lincoln general service
Turn to the experts for service and maintenance
Our technicians are part of a network of over 35,000 factory-trained and certified technicians across America ready to service your Lincoln. The same company that designed, engineered and built your vehicle developed their training. That means we have the right parts, technology and technicians to help ensure your service is performed correctly the first time.

Other benefits of Magie Lincoln service include:
• Factory-trained and certified technicians
• Specialized equipment
• Premium parts
• Lincoln Pickup & Delivery
• Complimentary Lincoln Loaner
• Parts and labor warranties
• Client lounge and business centers with complimentary Wi-Fi
Maintaining your vehicle
Routine maintenance and upkeep can greatly extend the life of your vehicle. Keeping up with Manufacturer Recommended service intervals, such as oil changes, having fluids checked and tune-ups can increase your vehicle's performance and reliability. Failing to properly service your vehicle can result in higher repair costs and reduced value. Fortunately, we make routine maintenance easy with Lincoln Pickup & Delivery,™* which offers the convenience of a complimentary loaner vehicle.

*Lincoln Pickup & Delivery service is valid for owners of 2017 model-year or newer Lincoln vehicles. Service is available for retail and warranty repairs. Mileage limitations may apply. See your dealer for details. Lincoln reserves the right to change program details at any time without obligation.
Oil Change
Today's vehicle engines generally have extended oil-change intervals beyond 3,000 miles, so you should review the recommended scheduled maintenance intervals in your vehicle's owner manual. You can find it at
owner.lincoln.com
.
Magie Lincoln provides a comprehensive checkup to help ensure your vehicle operates at optimal performance levels. As part of this service, your Lincoln will undergo a multi-point inspection, oil change with synthetic blend oil, and tire rotation, all at a very competitive price.
Fluid Levels
Your vehicle's fluids can be topped in just a few minutes. They include: oil, radiator, transmission, power steering, windshield washer and brake fluid. Allowing many of these fluids to become dangerously low or old can cause serious damage to your vehicle.
Filters
Your vehicle's filters should be changed every 15K-30K miles. Most can be inspected and replaced during a routine oil change. These include the engine air filter, oil filter, fuel filter and cabin air filter.
Spark Plugs
Your spark plugs should be changed every 100K miles. A bit more complicated than a routine oil change, the time and cost will depend on the year, make and model of your vehicle.
Belts and Hoses
Belts and hoses play an integral part in your vehicle's performance. As belts age, the rubber becomes brittle, causing it to crack. If the belt is showing signs of wear on its outer edge, this is also a sign that it will need to be replaced.

Since coolant temperature is about 200 degrees, the hoses that carry it are extremely important. A belt or hose failure can cause loss of both power steering and the electrical charging system, as well as an overheated engine. If your engine overheats, this can cause the cylinder heads to warp, resulting in a very expensive repair.

Hoses are generally inspected for softness and swelling, hardening, cracks, chafing and heat damage. If any of these issues are detected, your hoses will need to be replaced.
Brakes
Brake issues can start out small but worsen over time. Waiting to have them repaired can greatly increase the costs involved. Having your brakes inspected during a routine maintenance visit can help save you both time and money.

Discs should be inspected for rough spots, warping or damage. If they are shiny and show little signs of wear, maintenance is likely not needed. If they are damaged or warped, these parts should be resurfaced or replaced immediately.

Your vehicle has rubber and metal brake lines that can crack and leak. Our technicians will first examine the rubber hoses to ensure they are soft and don't have cracks. They'll then check the hard metal brake lines for corrosion and leaking. If either is damaged, replacement is recommended.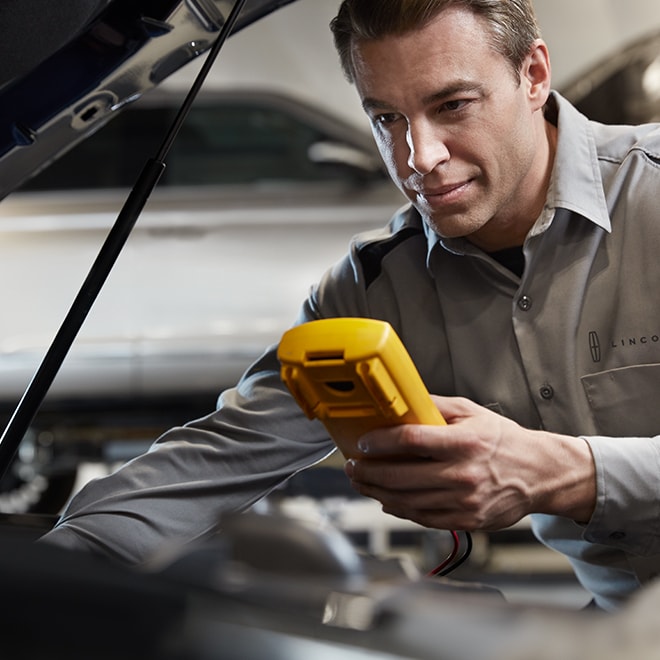 Batteries
Today's vehicles are very complex machines that rely on many operating systems. That's why it's more important than ever to ensure your battery operates at peak performance. At Magie Lincoln, we know exactly what battery is needed for your vehicle and can have you fully powered in no time.
Tires
Maintaining your tires not only helps keep you safe, it also helps your vehicle run more efficiently and extends the life of the tires themselves. Following these simple steps will help ensure you get the most out of your tires:

• Have your tires rotated every 5,000 to 8,000 miles – see tire manufacturer for specific recommendations.
• Check the pressure of all tires, including your spare, at least once a month when the tires are "cold," meaning that the vehicle hasn't been driven for at least three hours. Recommended air pressure for your tires can be found on the placard typically placed on the driver's side doorjamb.
• Have your tires inspected during every service visit.
Questions about maintaining your Lincoln?
* Indicates a required field